Taxi industry overview
The app-based taxi industry is no. one in the on-demand market among other services. The app-based taxi service has now moved to other areas like limousine service, airport shuttle, pet taxi, just to name a few. The growth and penetration of smartphones and the internet have propelled the taxi business to new heights.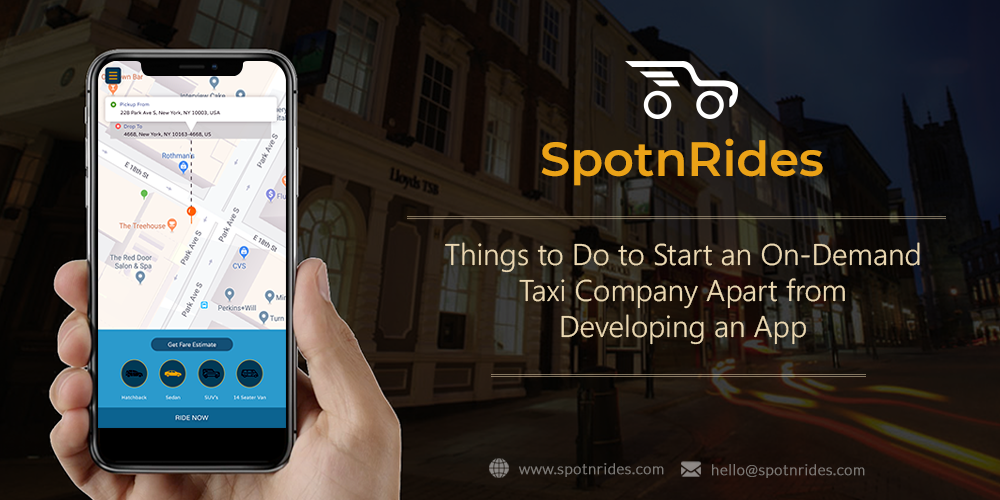 Industry giant Uber operates millions of cars and none of them is owned by them. And this less ownership model is the reason for the success of this industry. Now is a great time to enter this business. Already many of the new players have tasted success in their local region. Apart from developing a booking system for your company, there are many other things to do like whether using own fleets or not, getting on-board the drivers, marketing plan for the company, etc.
Before seeing the above things, answer the following questions
Competitor analysis
You definitely need to analyze the competitors in your region and find their revenue model, pricing, features offered, target audience, etc. This allows you to try new things and be different from them.
Target audience
This area is very important.  First, know who your target audience is and then take a survey to find whether the operating regions have got the target audience. Sometimes people start businesses in the area with a very small target audience and end up incurring huge losses.
How is the future?
There is huge potential for business growth at the macro level doesn't mean that the same applies to small business run in a local region. So, be clear with the future prospect of your business.
Establishing the Taxi fleet
There are two ways you can add taxis to your company. One is by buying all the taxis required for the business. Two is attaching third-party cars to your company.
Buying the entire fleet for your business is very costly and not everyone can do it. Calculate the ROI, Annual growth rate estimated revenue of your business before deciding to buy the fleet. If you own the fleet, there will be additional expenses like maintenance, inspection, repair work, etc.  Compute the unit economics for the business if you own all the fleet. Clearly, the cons of owning the entire fleet outweigh the pros. Also, the Uber model of less ownership is completely removed when you decide to own the fleet.
Instead, you can allow third-party persons to attach their car in your taxi business. They can join as a partner and for every ride, a particular commission is sent to them. In this case, you invest only on the app development and other infrastructure. This model can be a new source of income for those who have a car and want to monetize from it. In firms like Uber and Ola, drivers are earning more than $800 per month.
Payment settlement for the drivers is made every day. There are some procedures to be followed before attaching a third party vehicle. The car owner has to provide some documents like license, insurance, registration certificate, proof, tourist permit, etc.
Overall when you see that attaching a car to the company is more beneficial both for business and the car owner.
Legal documents required to run on-demand taxi firms
Below I have mentioned some important documents required to run your on-demand firms. This list is made keeping in mind the US. For other countries not all of these documents are necessary.
Business and liability insurance

Tax Payer's ID

Fire certificate

Certificate of Incorporation

Business License

Non-disclosure Agreement

Employment Agreement (offer letters)

Employee's Handbook

Operating Agreement for LLCs

Insurance Policy

Online Terms of Use

Online Privacy Policy Document (basically for online payment portal)

Company Bylaws

Building License
Financing your taxi firm
Although starting an app-based taxi booking firm is not much capital intensive but customer acquisition and market expansion may require a lot of investment. Before choosing the way to finance your firm, have a perfect business plan and revenue model.
Here are some of the ways of financing your company.
Raising money from personal savings and sale of personal stocks and properties

Raising money from investors and venture capitals

Sell of shares to interested investors

Applying for a bank loan

Pitching your business idea and applying for business grants and seed funding from angel investors
Customer acquisition and marketing plan
Even if you have a great product/service, it is meaningful only if you take it to the people.  You have to woo the prospective people, target audience towards your business. When it comes to taxi booking market, the starting point of customer acquisition is making people download your taxi booking app.
One-time discounts, referrals, offers can be provided for users who download the taxi app. Apart from this, you have to be sure that you elevate the brand name and company profile while promoting. Below are some of the ways to market the app.
Advertise your business in relevant magazines, radio and TV stations.

List your business on local directories/yellow pages

Attend international transportation expos, seminars, startup fests, and business fairs

Create different packages for different category of clients in order to work with their budgets

Use social media platforms to promote your business.

Join local chambers of commerce and industries around you with the aim of networking and marketing your services sometimes you are likely to get referrals from such networks.

Engage the services of marketing executives and business development managers to carry out marketing
Strategies to boost your business
Boosting business sales can be done through existing customers, social media, print media, etc. Word of mouth through existing loyal customers can be very useful and also instills a sense of trust. Providing cab service at a discount to certain company employees or business organization or particular townships through tie-ups.
Brand all your official cars and ensure that all your staff members and management staff wear your branded shirt or cap at regular intervals.
Develop the app booking system at SpotnRides
So far we have seen what are the things you have to do to place a taxi firm apart from the app development. But the starting point for your business should be app development. In order to reduce cost, it is advisable to prefer Uber-like app clone scripts instead of creating an app from scratch.
SpotnRides specializes in developing taxi booking apps similar to Uber. Our taxi booking app is loaded with features similar to the other taxi giants like Uber and Lyft. Our team of skilled developers is ready for additional customization that suits your business. If you are an existing player or newbie who wants to start an app-based taxi business, then SpotnRides will be the right place for you. For more questions and clarifications, drop a message to [email protected].
Launch your Own Taxi Business Now with SpotnRides: