On-demand taxi business similar to Uber and Ola is booming across the world. Uber alone completes 15 million trips a day. Chinese company Didi chuxing completes 30 million trips in China alone. All these taxi hailing startups use four wheelers like sedans, hatchbacks, and SUVs. And, it is obvious that four wheelers are difficult to drive in traffic and this factor alone causes a lot of time loss.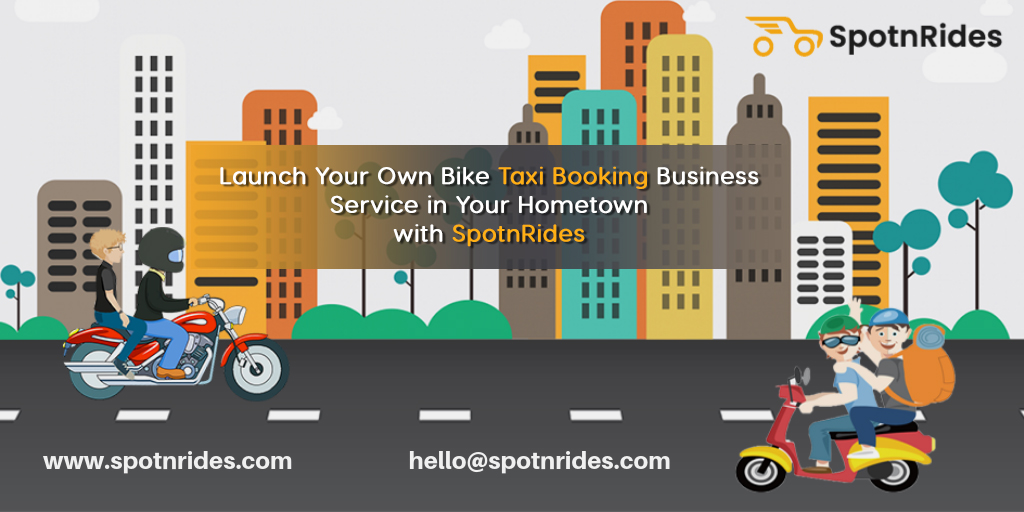 The U.S is the most congested country and it is estimated that the drivers spend on an average of 40 hours a year in traffic. This amounts to $1,500 loss per driver. 
Next is the air pollution due to traffic in major cities. Four wheeler emission is more than two vehicles. Since the taxi ride handling firm uses four wheelers in all their fleets, they indirectly contribute to air pollution.
What about bike taxis?
When you take all the above factors like traffic, air pollution and time we can think about the on-demand business using a bike taxi.  Very few firms have entered into the bike taxi market because of some regulatory issues. But, it seems that bike taxis are the need of the hour now.
Why bike taxis over cabs?
Bike taxi startups can follow the pickup and drop model that works on the smartphone app. In places where traffic is moving in a snail pace, a bike will sail through the traffic smoothly. The pleasure of moving through the traffic sometimes outweighs the luxury of traveling in a car. 
Single riders who want economical commute to their workplace or any other places can opt for bike taxis. Moreover, if a rider wants to reach a place urgently, then the bike is handier than a car.
So, bike taxis not only reduces travel time and pollution but also gives the riders a new experience. Also, the cost of commuting is economical and I am sure that it won't make a dent on the rider's pocket.
Rapido, Go-Jek, Baxi, Grab, SafeBoda, and Bikxie are some of the leading on-demand bike riding firms.
Rapido is an India based firm that operates from Bangalore city. Its app has been downloaded over 50,000 times. 85% of its customers are repeat takers. Rapido has completed 3 rounds of funding and has generated over 30 crores (Indian Rupee). 
Go-Jek is one of the largest players in the bike riding segment operating from Indonesia. You can easily spot Go-jek riders in the busy streets of Indonesia. Go-Jek has got funding from giants like Google and Tencent. Unlike cab based taxi business, the bike taxi business is still untapped by many people.
Get Free Demo – WhatsApp | Skype
What it is for the entrepreneurs?
The advantage of bike taxis has made it an inevitable service in the future. Running expenditure is also low compared to cabs.  Some government hasn't given the approval to run bike taxis. But that has changed now. Many governments are coming forward to grant special approval for bike taxi firms. 
Aspiring entrepreneurs who are keen to enter the on-demand taxi booking market can choose bike taxis instead of the highly competitive car taxi. The bike taxi is relatively new and so the possibilities of achieving bigger are very high. If your locality is facing the problem of congestion, then you are the right person to start a bike taxi startup.
If anyone has own bike and need extra money can join with your startup and be a part of the new revolution in transport. They can offer rides anytime anywhere and earn good money. 
Core features of the bike taxi app
Book now ride later
The rider can schedule a bike ride for any other time on the customer app. This eliminates last minute tension for booking.
Cash or wallet
After the ride, the customer can pay either by cash or e-wallet. If e-wallet is chosen, the fare will be automatically debited from the account linked to the taxi app.
God's eye view 
This feature is for the bike driver which allows him to locate the region where there high frequency of bike taxi booking.
Real-time tracking
The rider can track the location of the bike taxi until arrival and the bike driver can also navigate the destination on the map.
Bike taxi has a CAGR of 10 % till 2024. Asia leads in the bike taxi market and there is a huge scope in the US, Europe, and China. Now is the apt time to launch your bike taxi startup.
We offer SpotnRides, which is a ready made app solution with all the basic features required in a taxi booking app. So far, we have dispatched our solution to clients in 15+ countries. We are curious to work with people like you and we are excited to be a part of the on-demand market. For any doubts and queries, just drop a mail to [email protected].
Get Free Demo – WhatsApp | Skype
Launch your Own Bike Taxi Business Now with SpotnRides: