Gone are the days where booking a taxi is a difficult task, with the advent of taxi booking app, customers are using their smartphones to book the closest available cab and also select the type of cab needed. Less time consumed, knowing about driver's credibility and user-friendly interface have made people gravitate towards using the taxi booking app. With many people moving towards smartphones, the taxi business is expected to take a giant leap. So, we see a lot of enterprises jumping into the taxi business. Also, why many enterprises invest at SpotnRides to build their Uber-like taxi app.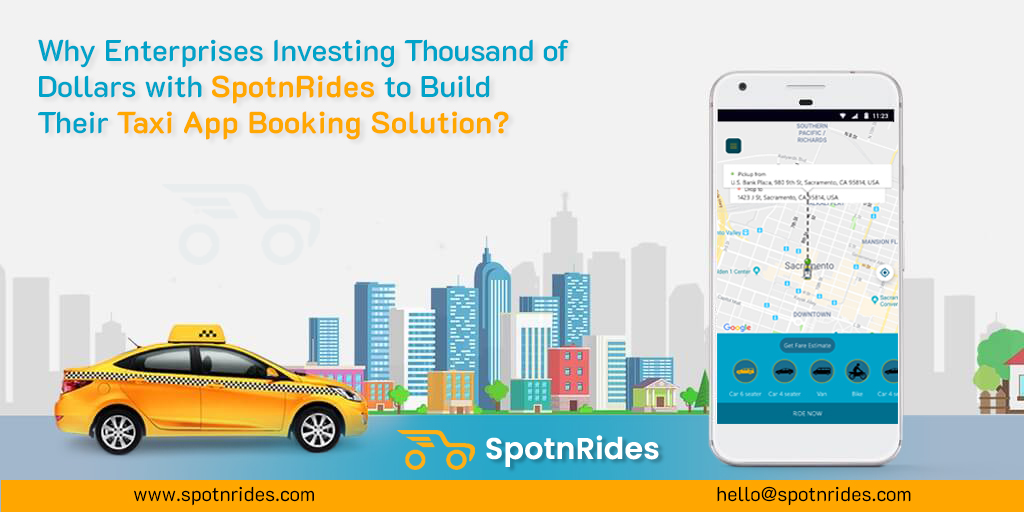 Why on-demand taxi booking venture?
On-demand taxi booking venture has become a hot business after the tremendous success of Uber. In 2017, the value of taxi booking business was worth $108 billion, it is expected to grow to $300 billion by 2030. The average revenue per user in 2018 from on-demand taxi business is $140. An estimated revenue of $65 billion is expected from ride handling firms in 2030 provided that the fact that 23% is taken as a commission from total sales. A unique business model of Uber-like taxi booking is the use of a mobile application. Normally when we want to take a ride we use to wave in the streets for cabs, tell the driver about the destination and we will take a rise. Since there is a widespread reach of smartphones across the world, why don't we leverage this technology in making the taxi business easy.
On-demand taxi booking business is a disruptive idea. Already Uber has disrupted traditional taxi booking business in the US. With a little bit of hard work, innovation and out of the box thinking, one can create a successful taxi booking venture. Although hundreds of on-demand businesses are sprouting across the world, few are making into the successful path. But that should not deter you from taking this route.
How mobile apps can change the way taxi booking business work?
As said earlier, in a traditional taxi booking business the customers have to wave their hands on the streets to call a taxi. This can be uncomfortable for many people. Also, during peak hours cab may not be available on streets so people become frustrated. Some other problems in traditional taxi business include:
The credibility of the cab driver may not know to customers.
Customers don't know the exact cost of travel. In most cases, they end up shelling out more money than what it used to be.
Customers cannot select the type of car and have no idea about the facilities in the car.
Using a mobile app for booking taxi eliminates the above-said problems in traditional taxi booking. When you book a ride through an app, you got to know the driver's name, car registration number and the exact cost of ride beforehand itself. Another exciting thing is you can select the type of car you want to travel. All these benefits while using a mobile app have proved to disrupt the traditional taxi business.
Why creating a taxi booking app from scratch is costly?
For creating an app like Uber from scratch, you need a dedicated developer team which is a costly affair. Otherwise, if you outsource the work to build an app, it costs more than having dedicated developers. Cost of building an app from scratch ranges from $10,000 to as high as $40,000. Also, the app developers you are hiring should be highly qualified. Hiring such highly qualified developers may shoot up the already high cost.
If you take the time period for creating an app from scratch, it takes a minimum of 2 months. What I have mentioned above are the best case scenarios. In case of worst case scenario i.e. if the app requires a lot of revisions then many iterations have to be followed thus consuming a lot of time. Since Uber had a lot of venture funding they were able to create an app from scratch for their business.
After stating the above reasons why building an app from scratch is costly, do I mean to say that you should not create an app? No. There are many service providers who have ready to use Uber-like taxi business app. One such is SpotnRides. At SpotnRides we create customizable Uber-like the on-demand business app at affordable rates and short duration.
How SpotnRides can help you?
A customizable Uber-like app will be delivered to the clients in two to three days of purchase from SpotnRides We have created 15+ Uber-like on-demand business app for enterprises across the world.
Once the app is delivered, our work at SpotnRides is not over. We provide after sales service for the clients. In case the client wants to add or customize after the deployment of the app, our team at SpotnRides are ready to do. A centralized dashboard will be provided to the clients so that the clients can have full control over the business and can raise any concern if any.
An Uber-like on-demand business has three apps for customers, driver and an administrator(admin), for each of them a customized app with a lot of features is provided by SpotnRides team. Our Uber-like app is a mirror image of the original Uber app. Facilities like getting customer feedback, applying promo codes and many more features are available in our solution.
What differentiates SpotnRides from others?
At SpotnRides, we have dedicated laravel developers to create Uber-like app. Laravel is a PHP framework which has benefits like tight security, protection from malicious attack to name a few.
We have apps for multiple platforms like Android and iOS. Firebase, MySQL, MongoDB are some of the databases we use based on requirements. On-time delivery, scalability, affordability are the strong areas of SpotnRides.
Our taxi booking app can work on multiple languages based on requirements from clients across the world. The SpotnRides team can work using MongoDB so that we assure scalability of 1,00,000 concurrent users at a time.
When you take a larger picture, no one can deter the journey of enterprises towards the taxi business and their path to success depends on how they perform. Lastly, SpotnRides's ultimate goal is to provide the best mobile app booking solution to makes enterprise dreams come true.
If you are looking for a quick response team to clarify your doubts instantly about your new business venture, please connect with our expert team at Whatsapp or write a quick email to [email protected].
Build your Own Taxi App Solution with SpotnRides: