Now we are undergoing a digital revolution and everyone in the world are anticipating AI based revolution. In digital gen. we use gadgets for every work and most of the paperwork, transactions are digitalized. It is expected that in the next generation we may use cyborgs and robotic machines.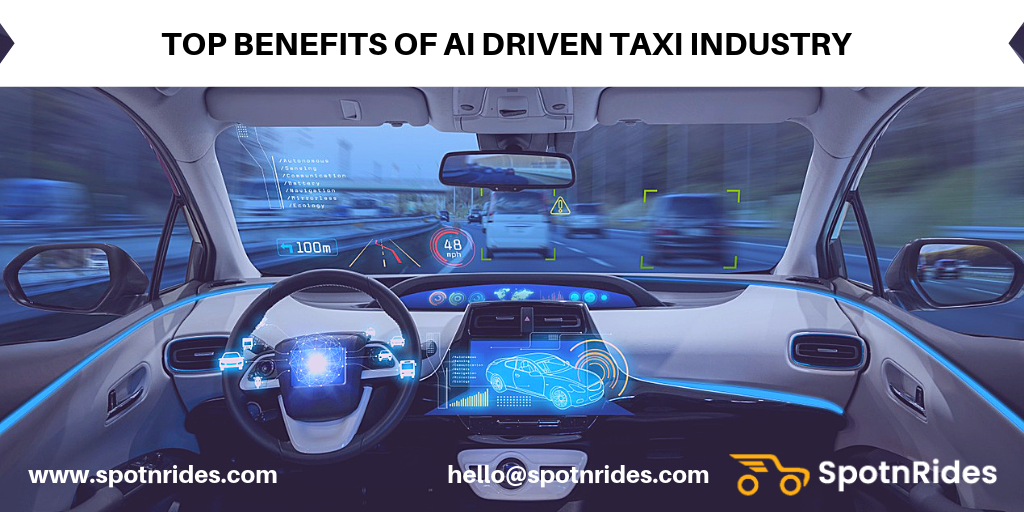 Each and every industry that was hailed as giants are experiencing a massive change in the wake of AI infiltration. The automobile industry is no different. The taxi industry is one of the beneficiaries of the automobile industry. It is inevitable to avoid the AI-driven shift and it is imperative for the taxi industry to adapt itself.
Self-driven cars and automatic cars are some of the examples in which AI is shaping the auto industry. Already Google and Uber have started to test self-driven vehicles in some cities as a pilot project.
Automatic vehicles bring with them a lot of advantage and no wonder it can revolutionize the taxi industry.
So what lies ahead for the taxi industry?
Get Free Demo – WhatsApp | Skype
Benefits of automatic cars for taxi companies
Relaxed rides
Have a relaxed and tension free rides with self-driven cars and those who take cars for office commute can even start their work during the commute. You can arrange meetings, make important calls and do all arrangements even before reaching the office.
Now you know the reason why autonomous cars have an option to install a flat screen television. Some even allow you to put your feet up and take the toll of the day from you.
What I said now may look like a bit odd at the beginning but this will become a daily routine.
Increased safety
More than 80% of car accidents happen due to human error like drowsiness, intoxication etc. With AI-powered vehicle, we can reduce the incidents of car accidents by 60 – 70%.  The cars can even identify a drunk person and give a warning to them.
Cost reduction
This point may be contradictory. How can AI reduce the cost?. When you take a larger picture since AI based cars reduce accidents, it indirectly reduces medical expenses and thus overall cost is reduced. Around 1.5 million people die of road accidents and imagine the cost spent on it. This can be averted with self-driving cars.
Between 20 and 50 million, more people suffer non-fatal injuries, with many incurring a disability as a result of their injury. Permanent disability is a serious concern that can be eliminated with self-driven cars.
Predictive driving
AI-based vehicles can communicate with other vehicles and can coordinate with them. They can also get connected with the traffic signals. This provision would also enable the cars to predict accidents and this would result in fewer accidents and fatalities while driving.
This is a groundbreaking technology and is being heavily tested by many tech giants these days.
How AI can help taxi dispatch system?
Route optimization
Logical Reasoning is a key component of AI which could be used to optimize routes. The logical reasoning algorithm studies data sourced from the drivers and maps. The data is then analyzed with respect to two considerations, time, direction, destination, and starting place and then optimizes the routes to assist the drivers to reach their destination in the shortest possible time. This is a key technology.
Demand prediction
Data-driven analysis and Predictive Analysis increase the accuracy levels of demand prediction. AI's efficiency in Data mining is utilized to retrieve data and it is used in the correlation between demand for taxis and time. The data is then analyzed using predictive analysis technique to provide highly accurate demand predictions. This helps the business operator mobilize resources efficiently.
Automatic dispatch
Dispatching is important in taxi dispatch system and so far it is done by a human. With the advent of AI powered system, the human work is replaced with a machine and there will be no room for error. Dispatch will be done seamlessly.
This is done using data mining and pattern recognition techniques which gives a structure to unorganized data which in turn simplifies data analysis for dispatching.
AI will become an indispensable component of taxi dispatch system. Above said benefits are just a tip of the iceberg since AI is still in the development stage and we can expect many more in the future.  So the sooner you adapt, the greater the benefit you reap from the business.
If you are looking for a quick response team to clarify your doubts instantly about your new business venture, please connect with our expert team at Whatsapp or write a quick email to [email protected].