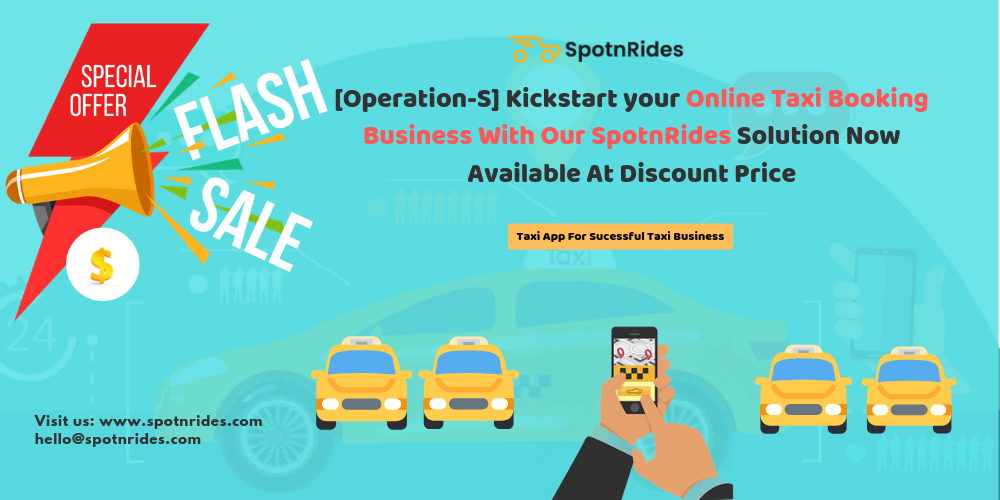 SpotnRides has been riding on the success of the taxi booking software which we released in 2017. Not to mention, we got very good patronage from entrepreneurs and businessman across the world. Many of them approached us to develop a solution for their on-demand business and this includes many services apart from taxi booking business. I forgot to mention that our SpotnRides solution is customizable to suit other services also.
Some info on our technology stack and our developers would give a better overview of our solution. We work on database like Firebase, MongoDB, and Golang. For web panel, we use Laravel based PHP framework. Obviously, for Android app and iOS app development, we use Android SDK and Swift. Our skilled developers are experienced in working on a range of app and web development. They are trained in such a way to adapt and apply new technologies in every way possible. So, there is no room for working with outdated technologies.    
It all started as a humble beginning in 2017 with few crazy developers who had the zeal to achieve something in app development. Through their finesse and persistence, we came up with SpotnRides which was the need of the hour then and its demand hasn't diminished till now. Nonetheless, our product has been subjected to continuous improvement with the latest tech implemented on it.
Not to mention that 2018 was a great year for us with many clients opting our product. We are proud that our firm has contributed a bit to the exponentially growing on-demand market. More than this, we are happy to have served many new entrepreneurs. We are looking forward to repeating the same in 2019.
Our firm has devised a mission for 2019 to help 50 startups with our SpotnRides Uber clone solution.
Just like how some governments provide incentives and tax breaks to new startups and businesses, we are also going to provide our flagship product at a flat discount. It is estimated that between 2019 and 2022, there will be a spurt of app-based startups mushrooming globally. Our firm would like to take this chance to help many businesses as mentioned earlier.
Our flagship product, SpotnRides is available for a price of USD 1999. This is mainly targeted at on-demand taxi businesses. Join our mission and launch your taxi business and rule the on-demand taxi hailing industry like a king.  
Get Free Demo of Taxi App Development  – WhatsApp | Skype
More details on SpotnRides
Just like the other top ride handling firms, SpotnRides is comprised of three apps. The customer app, rider app, and admin web panel. Each of these apps has common features and some features unique to Spotnrides.
Smart analytics system
The smart analytics system is a feature of the admin web panel. From a single place, the admin can oversee the happenings of the operation and get valuable data which can be used to improve the business.
World class implementation
We notify the clients for the every step we take in development. Our knowledge and experience in this domain help us to save a lot of time and effort and we leave no stones unturned to satisfy our clients.
Eye-catching UI/UX
To improve the business, we should make the users crave to use our solution. For that, we have adapted outstanding design and user experience. The rich buttons, logos, and subcategories created by our skilled design team attract more users.
Customer-centric approach
We care for our customers and also get regular inputs from them. We don't shy away from showing our home-grown features to them and apply only when they accept it.
Smart solutions
Our solution is smart enough to suit your business model. We deploy the solution at the said time and we provide technical assistance for some time at zero cost.
The above-said features are just a tip of the iceberg. New features based on your business locality, region, revenue model can be added  SpotnRides taxi booking app solution.
Still, having doubts about our product? Don't worry. Request a demo of SpotnRides by dropping a message to [email protected]. Our business executives are available round the clock.
Get Free Demo of Taxi App Development  – WhatsApp | Skype