Here is a bit of good news for start-ups and entrepreneurs who want to tap into the lucrative cab sharing business and ride on the waves of success that companies like Uber have created: one of the best Uber-clone app providers are offering a 30% discount for the coming Christmas season.
SpotnRides is a ready-to-use taxi app script that allows you to kickstart your Uber-like cab renting and sharing service with great speed and minimum fuss.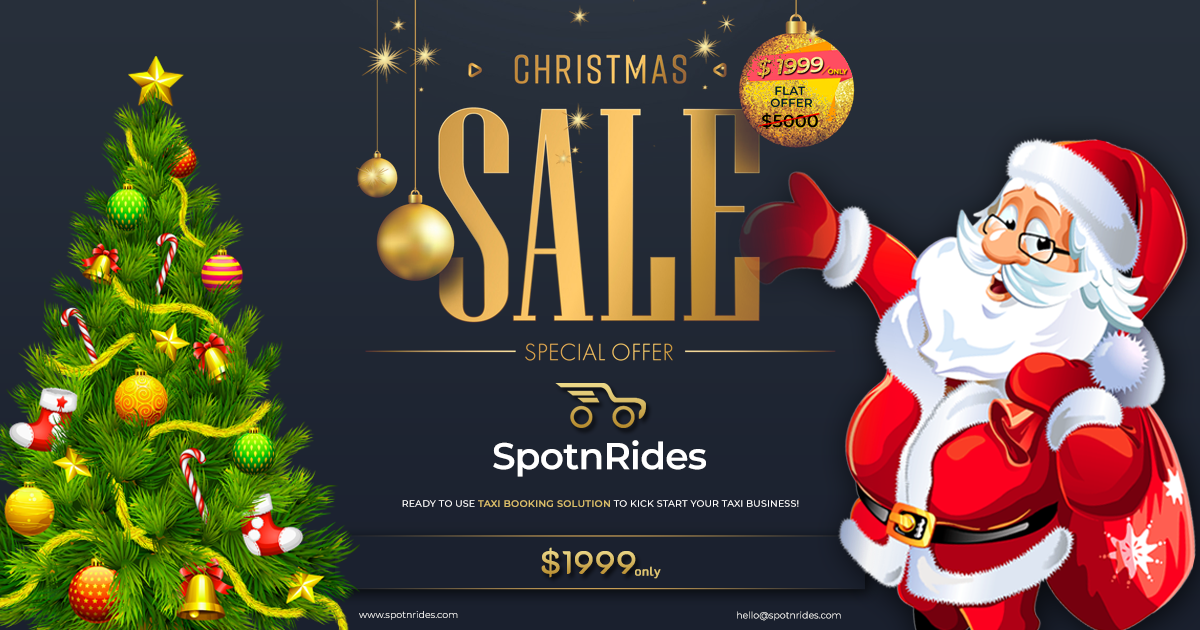 If the lack of a state-of-the-art Uber-like or Uber clone app has been holding you back from launching your lucrative taxi business, your wait is over. Although SpotnRides can work wonders to your business whether you purchase it at a discounted rate (as a Christmas offer) or buy it at its regular price, let the festive season be a motivation and a driving force in case you have been holding back for one or another reason.
Quick Launch Your Taxi Business With this Xmas Offer on SpotnRides Uber Clone App
Companies like Uber have totally revolutionized the way people book taxi cab services. In fact, these days, whenever someone needs a taxi, he or she uses a mobile app and rarely calls the conventional taxi service. This is why, if there ever was the right time to start a mobile-app-based cab sharing business, the time is now.
SpotnRides is a fully customizable and portable mobile app script that functions just the way the actual Uber app functions. Whatever features and capabilities are there in the Uber app, they are also present in SpotnRides. In fact, many users of the app claim that this particular Uber clone solution has more features and capabilities than the original app.
According to the Owners of SpotnRides, "The days of the neighborhood taxi services are over. These days you really find those yellow-black taxis standing in the corner of a street or a colony. Those old taxi stand services were inefficient, unreliable and even unprofitable both for taxi owners and passengers. Most of the people these days prefer to use app-based taxi services. Getting a cab was never easier and cheaper. Starting a cab service too was never easier and cheaper. All you need to do is, build a small network of taxi owners who would like to get associated with your company, get a world-class mobile app that allows passengers to book cabs and drivers to get connected with your service, and you're good to go."
The greatest stumbling block is the mobile app that is needed to start a taxi business. If you want to develop your own Uber-like app, especially if you want to incorporate all the features that the Uber app has plus all the functionalities and the sleekness, it can turn out to be a very expensive affair and on top of that, you can never be sure that the team of mobile developers that you assemble is going to deliver what you need or not.
SpotnRides, on the other hand, gives you a surety of a world-class taxi cab service app that is even better than the original Uber app. Very easy to customize and brand, very easy to operationalize, you can purchase the app, get it tailored according to your unique needs, and start your Uber-like business in a matter of a few days.
Why choose SpotnRides as your preferred Uber-clone taxi service mobile app, over any other clone app?
According to the promoters of SpotnRides, the best reason to use SpotnRides is its ability to mold itself exactly the way you want. Although it is an Uber-clone, you can turn it into a highly unique mobile app.
Once purchased, no technical knowledge is needed to get you started. The implementation and deployment support is provided by the makers of SpotnRides. They will also customize the app to make it totally unique to your business. All contemporary payment solutions can be incorporated within the app. A centralized dashboard can be created from where you can control every aspect of your business. The app is built with native technology capabilities so that it fully utilizes the local capabilities of people's mobile phones. Once installed, the script can run on multiple platforms including Android and iOS.
Typically, a taxi booking mobile app has 3 categories of users, namely riders, drivers and administrators. SpotnRides provides a seamless interface to all the 3 categories of users.
Riders

Easy registration and onboarding: Riders don't have to spend much time trying to figure out how to register themselves and book their first cab. Even if they are using the app for the first time, they can get going within a few minutes.
Fair estimates – SpotnRides uses the Google Places API to automatically calculate how much it is going to cost.
Driver review and rating – Users can help other riders know how good or bad certain drivers are.
Ride scheduling – Cabs can be booked in advance.
Real-time movement tracking – Through Google Maps the movement of the ride can be tracked on a mobile phone in real-time with the precision of 100-500 m.
Vehicle choice – Riders will be able to decide what sort of vehicle they need provided the vehicle is available.
Drivers

Easy registration – The interface of the SpotnRides Uber-like solution has been designed in such a manner that even the least tech-savvy drivers can register and get going with minimum fuss.
Instant alerts – The driver can get instant alerts of bookings and cancellations.
Preservation of the track record – Real-time track record of the driver will be preserved by the app and will be accessible to all your users.
Digital documentation – Your drivers will be able to quickly upload the authentication documents and get verified very fast.

Administrators

Fare management – The parameters required to calculate mileage and fare can be controlled from a single dashboard.
Driver and user management – All the functions needed to manage drivers and users are present in the dashboard.
Live reporting – Real-time reports on various drivers and riders can be obtained immediately.
Commission dashboard – Whenever you feel like you will be able to see how much commission you have earned, organized in daily, weekly, monthly and yearly orders.
Additional features that add values to our Uber Clone Solution,
Scalability – Assures 100,000 concurrent usage at one time.
Scheduled Trips – Customers can now 'Schedule Trips' while having the 'RIDE NOW' Option.
Multi-Language – Personalize user experience with the more than one language.
Multi-Currency – Go Regional with support to different currencies and even with cryptocurrency.
Plus – Product built with Native Mobile Application technology and Customisation is available for any kind of on-demand services.
"The festive season is fast approaching," says CEO and Managing Director of SpotnRides, "and this 30% discount is a gift that we would like to give to all our prospective users. They shouldn't let this opportunity pass. The app is already quite affordable and with this 30% discount, there is no reason the price should hold someone back. People should definitely check out our website to fully understand the powerful features the SpotnRides mobile app renders to their business. I'm pretty sure that after going through the list of features, they will find it irresistible."
As is understandable, the offer is limited to the festive season and once the festive season is over, the pricing will be reverted back to the original pricing.
If you are looking for a quick response team to clarify your doubts instantly about your new business venture, please connect with our expert team at Whatsapp or write a quick email to [email protected].
Build your Own Uber Clone App Solution with SpotnRides: