Are you the one person who wants to start a taxi business with few fleets and with a shoestring budget? Then you have come to the right place.
Why taxi business?
In recent times, Uber, Lyft and Ola are making headlines and there is huge support from the general public. This is because of their business model of integrating the taxi industry with smartphones. Many entrepreneurs have ventured into the taxi industry because of guaranteed success. Not to mention that Uber and Ola started with 4 to 6 cars and now they are operating a million cars globally.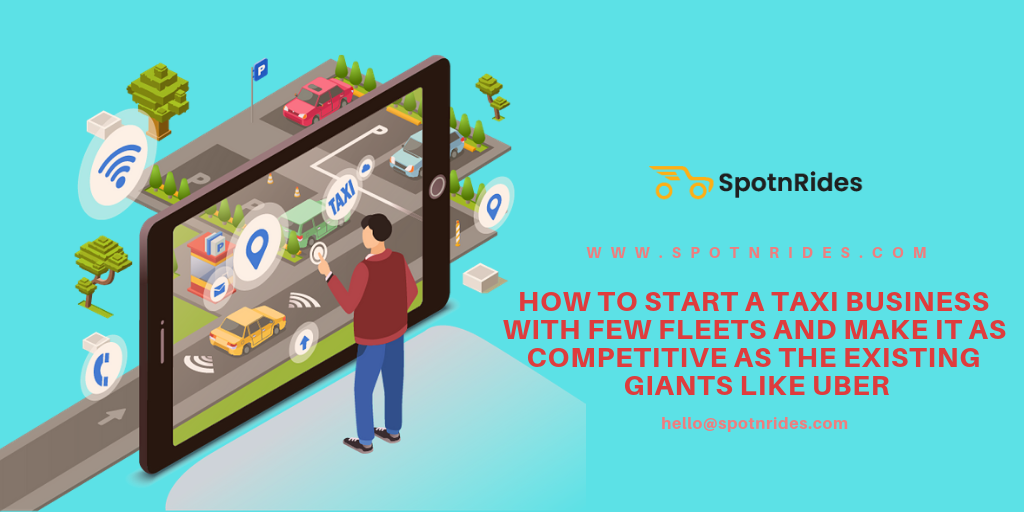 One of the good things about the taxi business is the fact that you do not need to be an expert in the transportation field before you start this type of business.
A taxi business can be started small with a small fleet in your local town, and as time goes on it can be expanded gradually as you begin to get profit. The taxi industry as we know is growing rapidly due to innovation, urbanization, millennial outsourcing, and internet access.
Obviously, taxi business like other business is not a piece of cake but if you are smart working and have the will power to persist can taste success in this business. So, if you are ready for all the chores then you need not worry.
Some stats about the current taxi industry
Today the biggest taxi markets are Europe which has 6 lakh taxis, the US has 4 lakh and China has 6 lakh. The US and Europe are leaders in new innovation and technology, so the potential for an on-demand taxi has always been high.
It is estimated that the on-demand taxi industry will reach $300 billion in revenue by 2030. At present, the total taxi rides amounts to 15 million trips and it is expected to reach 100 million trips by 2030.
Uber and Google are testing autonomous vehicles hoping that is can be used as taxis in the future. Autonomous fleet may be the biggest revenue generator in the new market, bringing in an estimated $220 billion by 2030.
Get Free Demo – WhatsApp | Skype
Impediments to on-demand taxis and how you can rectify
Drivers
Most on-demand taxi firms only do a background check on the drivers and take the drivers on-board if he has the necessary licenses.
There have been many cases of rash driving and riders are injured as a result of this. This is a point of concern and is adversely affecting the cab aggregators big time.
You can employ verified and professional drivers to avoid problems with riders.
Rider security and safety
There have been many instances of crimes doled out to riders and it is said that on-demand taxis are unsafe for women riders.
At your firm, you can employ woman drivers and install a panic button for safety.
Starting a taxi industry with a small fleet
Demographics and Psychographics: Before starting your business, do market research with the demographics and psychographics to clearly understanding.
In some areas like tier 1 cities, taxis are a major source of commute and huge demand will be there among office goers. In tier 2,3 cities demand comes mainly from family trips and students. The taxi industry has no specified age bracket or social status that patronize the business, but all individuals have a need to be somewhere at a particular time.
Other areas where taxis can be a hit: Creative and innovative people can use the taxi in other following niche areas:
Pet taxi

Limousine service

Bike taxi
Competitor analysis: If you are starting the taxi business in your local area, find the competitors in your area and analyze their business and revenue model to ascertain the type of function that can be suitable for you.
Economic analysis
The economic analysis of the taxi business differs because the taxi market looks very different in each country/region in terms of regulation, infrastructure and is undergoing constant change. A taxi business requires thorough research of the industry, proper preparations and enough incentives to be able to flourish and get profits.
Analyzing the economy is imperative because the economy of a place influence the taxi business through fares, fuel price, and good roads.
Is The Taxi Business Worth bootstrapping Or Is Buying a Franchise Better?
Many taxi business like Uber and Lyft started from scratch but it is not necessary to venture into the taxi industry one must start from the nothing. Starting a business from scratch or buying a franchise has its own pros and cons.
The taxi business is a goal-oriented competitive business where giants like Ola, Uber are swimming deeper and the little ones are struggling to grow bigger.
Innovation, commitment and Brand popularity are important to attain success in this industry.
No doubt starting from the scratch gives you proper hold over the growth and size of your business, but it will take more time, since getting customers and retaining them is a herculean task.
Challenges in taxi business that you should be ready to face
The price of fuel and car are major problems you are expected to face. The high cost of petrol, diesel or whatever it is vehicles run on these days, is high but the introduction of fuel savers in the vehicle world can help reduce fuel consumption in vehicles. Electricity powered vehicles are becoming popular so, you can also try that way.
Secondly when starting a taxi business is the cost maintenance, you would have to maintain it regularly and this costs money. At the same time, cars break down unexpectedly in the middle of the road at this juncture, one day's income is compromised. Insurance is also another issue as most countries would require you to have motor vehicle insurance before you can run a taxi business.
Business plan for your taxi business
A business plan for your taxi business should have an objective of the taxi company and goals, missions, achievements, highlights of the taxi company, its business description and a detailed strategy for achieving the goal.
The business plan should include a marketing plan to take on your rivals and that should be suited to your intended audience.
Next is the financial plan in which you have to explain the cash flow and it is important to ascertain whether the cash flow is positive or negative. Also compute ROI, CAGR and target revenue.
Financing your business
Getting funds for your business is not an easy task because of the risks associated with this. Not to mention, there are some ways to try for funding:
Getting loans from private/ public institutions

Investors

Accelerators and incubators

Getting microloans

Venture capitalist/ Angel investors
Marketing plan for your taxi business
Below are some of the ways to marketing your business:
Push out your brand name to the level that it is ingrained in the people's mind.

Consider making up business cards to give out to people so that the will call if they need a taxi any time.

Repeat customers are assets to the business and make sure you retain them in the best way possible by offering them offers and coupons.

Promote your taxi company by providing your taxi fare and booking details in nearby hotels, restaurants, and motels so that the guests and tourists use your taxis.

Airports and train stations are a major source of revenue so, please make use of it by giving special fares to for riders coming from these places.
Taxi dispatch system and customer, driver mobile app
It is imperative to use taxi dispatch software for your business. It is used to manage your fleet and streamline business operation by cutting unnecessary costs. Many companies offer taxi dispatch software but SpotnRides offer customizable and scalable taxi dispatch solution that is suited to any taxi company.
Apart from manual booking for the riders, you can provide customer app so that riders having smartphones find it easy to book a cab. Integrating taxi dispatch software with the customer booking app is not a big deal.
If you are looking for a quick response team to clarify your doubts instantly about your new business venture, please connect with our expert team at Whatsapp or write a quick email to [email protected].