Launching a new startup in the on-demand service industry is now getting easier after the arrival of ready-made clone scripts available. One such familiar script is the Uber clone script where it holds the number of features and the customizable one to transform the business operations into digital as well as convenient. 
Due to the drastic changes in customer behaviors like they do not even wait for the buses or taxis for their commutation for minutes, the demand for the taxi-booking application is high. In parallel, the number of professionals shows their interest to launch the ride-hailing business to meet this demand and get the revenue consistently.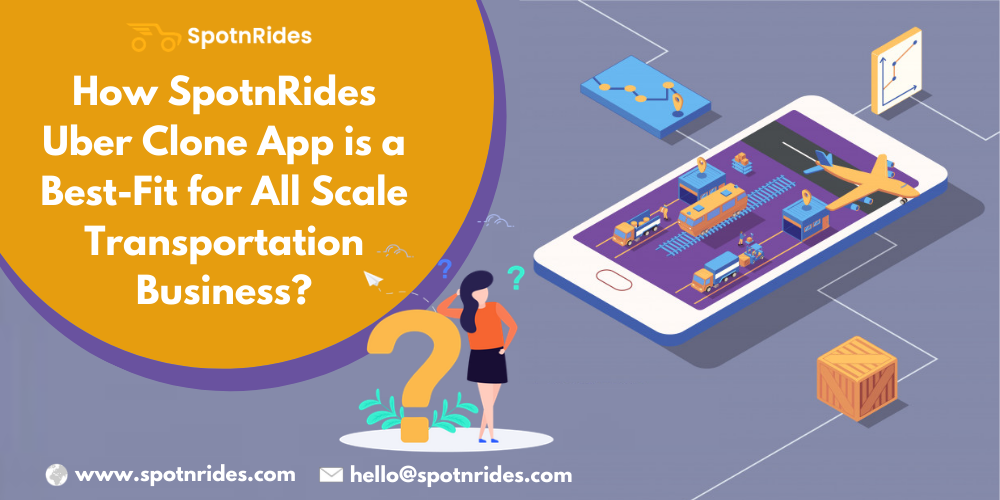 A better interface for the among scenarios is to develop the taxi-booking application and use its features as per the business needs only. Focusing on this aspect, uber for taxi-booking is getting familiar in the market. After the grand success of the uber clone business model, this can be extended into various sectors say transportation, logistics, tow truck, etc. 
With the inclusion of advanced features, SpotnRides uber clone app is the best one among the various clone app solution providers in various ways. This blog presents how the SpotnRides uber clone app provides solutions to the common issues in the transportation business and the points to prove its effectiveness in the on-demand market clearly via the following topics. 
Topics Covered
Top 3 Areas of Uber Clone App to Aid Startup Owners to Ensure Visibility

By providing the taxi-services to a wide range of customers with the use of the interfaces, uber clone registered pace with the best-in-class feature set, The startup owners have the wish to launch the ride-hailing business actively looking for uber-like apps to redeem their business structure into the new say in an advanced manner. 

The uber like taxi booking application acts as the best technical mediator between the riders and drivers to make the ride-hailing services as smooth. Choosing the industry and the technological integration platform is the preliminary stage for the one who wishes to launch the business. By looking at the top insight of the Uber clone business model, the following observations are made. 

The overall growth value of the uber like business models is around 75.4 bn USD and it holds the market share value of 37.2%. 

For the year 2021, the number of uber clone app users has considerably increased to 78 million users and the percentage of growth will be 42% in the second quarter. 

From there, the major inferences are constructing the perfect uber clone business model with the unique and most demanding features surely make the ride-hailing services as most-accessible platforms in the market. 

In the forthcoming years, the need for app-based platforms is high not only for ride-hailing, it is also needed in various transportation sectors. The major areas of Uber clone to ensure the visibility of startup owners are listed as follows.

Universal Taxi Booking Business

With the built perfect uber clone business model and the customizable nature, booking of taxis, convenient schedules, favorite place trips, business trips, and luxury travels can be made easily. The dedicated dashboards for the riders as well as the drivers comprised the advanced features to manage the ride-hailing services as the universal one in the market. 

Automate Fleet Management 

By including the predictive analytics and the accurate report management in the uber clone business models, the fleet management can be made accurate and the fleet managers involved in this process will surely get the visibility in real-time. 

The perfect uber clone business model with driver-centric features like smart scheduling, repetitive trip booking assures driver retention, tracking of fleets in real-time also ensures visibility quickly. 

Fulfill the Commutation Needs

As the relaxations are getting on in the world, people start to move around and have the wish to make outstation trips, family trips, and corporate trips. Immense queues in public transportation may divert them to look for feasible options in private transportation sectors. 

Hence, the number of service requests that arrived at the private transportation sectors are huge and the synchronized app model called uber clone app allows the travelers to book travel in comfortable schedules and make the trips as smooth with the use of automated app platforms. 

The impact of the uber clone app is not only restricted to the transportation of peoples, it also holds good for the perfect transportation of goods from one place to another in a feasible way. SpotnRides is one of the familiar uber clone app solution providers in the market and it provides the user-centric app platforms to upgrade their workflow.

Strategic Plans of SpotnRides to Make Startup Owners to Stay Ahead in Market

To make the workflow smooth and efficient, the pre-plan and the necessary updates as per the participant's needs are necessary things in the on-demand service industry. SpotnRides follows some of the strategic plans to make the startup owner's stay ahead in the ride-hailing market and they are listed as follows. 

Overcome the Real-time Struggles

Prior to booking the vehicles, the identification of top-rated ride-hailing service providers, driver's rating, and their experience in the travel is necessary as per the rider's point of view. SpotnRides uber clones make those activities in a smooth way and make the startup owners overcome the struggles easily with the features of the driver's validation, ratings, and the schedule options in the app interface itself. 

Focus on Secure Trip Strategy

Nowadays, late-night travel is now common. Working in multiple shifts may cause late-night travels especially for the women. Hence, the inclusion of emergency-based options in the SpotnRides uber clone app is an efficient strategy to make the trips safe. 

Also, SpotnRides focus on the secure terminologies where the details of the riders and drivers are stored securely and this provides accessibility after the authorization gets over. 

Flexible Payment Modules

The major focus of SpotnRides to implement the flexible payment modules where the riders can easily pay the amount via multiple forms like wallets, card-based, and cash options. With this payment module inclusion, the drivers also get the traveling fee instantly.

Ride-Sharing Concepts

With the aim of protecting the environment by reducing vehicle usage, the world looks for suitable solutions for fuel consumption or the size of vehicles. Hence, the SpotnRides focussed on the ride-sharing concepts that make the riders to share their ride with the others who travel on the same route. 

The effective implementation of this concept reduces the number of taxis usage in real-time. Also, the inclusion of the smart location finding options like GPS predicted the small distance that makes the trip-time and the fuel consumption as a minimum. 

With these strategic plans, SpotnRides takes ride-hailing services to the next level in forthcoming years. Since the travel industry is a competitive one with a huge number of players, handling competitiveness requires special ways. 

Five Ways of SpotnRides Uber Clone App to Remain Competitive

Ride-hailing industries accumulated a huge number of startup owners yearly. On the other side, the riders also demand various things in real-time to make the trips convenient for them. To assure this, SpotnRides follows the following ways in order to deal with customer expectations and be competitive in the Taxi-industry. 

Tracking and Alerts on Route Disruptions

One of the top-most ways focussed by SpotnRides is to track the trip between the taxi-drivers location and the customer's preferred location. Due to the fast-moving world, the consistent communication regarding the status of the trip and the alerts raising if there is any service handling if the disruptions are observed are necessary things. SpotnRides followed in-app chat and notifications to make those activities happen in a smooth way. 

Handling Multi-Service Requests 

Since the SpotRides uber clone app model is the customizable solution, the handling of more number of service requests is an easy one for both the service provider as well as the drivers. According to the instant of service request, one by one priority-based service request handling is achievable. 

Smart Onboarding of Players

The inclusion of a smart way of sign-in like social media-based sign-in allows the riders to show their experience via reviews or ratings in the public form. This smart way of sharing can bring new riders or travelers to the ride-hailing business. 

Pre-Booking of Trips

The special way followed by the SpotnRides to attract corporate travels are scheduled trips with the favorite drivers. Yes. The inclusion of both the vehicle selection as well as the driver selection allows the corporate peoples to make corporate trips as smooth. 

Accuracy via Digitized Operations

SpotnRides uber clone app acts as the better replacement of manual operations where the automation in each stage allows the business owners to provide the taxi services in a convenient way as well as a timely one. The data maintenance via the digital platform ensures the accuracy that highly attracts new customers. 

How SpotnRides is One of the Best Uber Clone Scripts providers in the Market?

The effectiveness of the business model not only lies at the operational level, it also depends on how the business model helps to earn more money than the competitors. On the basis of this aspect, SpotnRides will be one of the best uber clone script providers with the following strategies. 

Keep top quality players for a long-time by the inclusion of impressive options like subscription as well as promo-code-based offers, etc. 

Fee collection ways like waiting time, granting the position of one of the top-searches and the wallet-based payment modules, etc. 

The customizable and the pre-built nature of the SpotnRides uber clone app support for quick launch. 

Since the entire uber clone model is structured via the latest technologies as well as the customer's attention, SpotnRides uber clone app definitely makes the ride-hailing startup owners provide the taxi-services in an advanced manner.

Closing Words

Being updated on customer's perceptions is the major theme for businesses in the on-demand industry. Taxi-services are full of updates and numerous participations. Wide-range of transportation business sectors highly demand the advanced tech-partner for their effective operation. 

SpotnRides uber clone model will be the perfect one with the advanced metrics and features. If you have a plan to mobilize the transportation industry on all scales, send your opinions to [email protected] and get started now. 

Build Your Transportation Business Using SpotnRides Uber Clone App Solution: