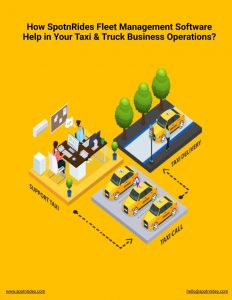 Fleet management covers the process of overseeing, organizing, and recording all aspect of a company's fleet. The fleet can be made of trucks, tippers, taxis, etc. Managing the fleet manually is a herculean task and failure to do so can affect the company's overall efficiency. What if there is a software that can automate the process of fleet management.
Fleet management software provides real-time data to the user so that he can use that data for a useful purpose. For the taxi industry, there is a dispatch system which apart from managing the fleet can also manage taxi booking from the customers. Traditional taxi owners can utilize this dispatch system to improve their business.
The development of software for fleet management requires an understanding of the functioning of your business.
This eBook covers everything from an overview of fleets, types of fleets, and the need for fleet management to taxi dispatch system, software development, etc.
Download the Free eBook of SpotnRides Fleet Management Software Here