Since the last decade, the taxi booking business has taken a giant leap after the advent of smartphone coupled with high speed, affordable internet service. Companies like Uber, Lyft, Didi chuxing, etc are making the most out of this app based on-demand economy. Millions of rides are taking place at any moment and people from big cities are using it for their day-to-day commute. Even taxi booking companies have become inevitable for many office goers. With these on-demand taxi booking apps, you need not wait under the sun in the middle of the road to find a taxi. With just a tap on your phone, the cab comes to your location within minutes.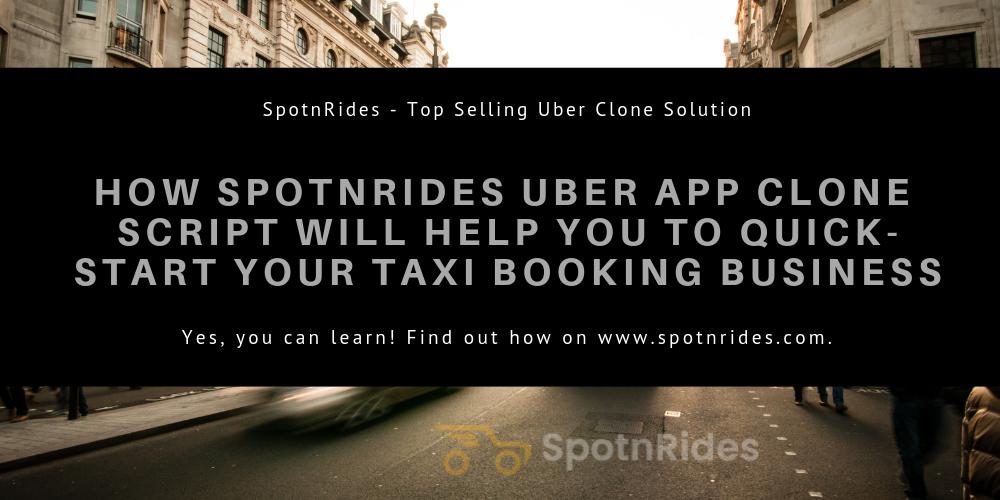 Seeing this success, many entrepreneurs began to step into this field. They desired to replicate the success of Uber and Lyft. Some on-demand startups are successful because they embraced the latest technologies.
But some new entrepreneurs choose to develop everything from scratch without knowing that it would cost them a lot of time, energy, and money. To help people like this, SpotnRides develops Uber app clone in line with the latest technologies.  SpotnRides Uber clone is an exact mirror image of the original Uber taxi app. But what is exciting is that SpotnRides can do customization which can take the Uber clone app better than the original app.
Adding or removing any features is done seamlessly at SpotnRides. Apart from the app, we develop an online web page for taxi booking if needed.
Let's see how our Uber clone scripts will help you to kickstart your taxi business:
SpotnRides Uber Clone App is Feature Rich
Our taxi booking app is loaded with features that are indispensable in a taxi booking app. Below are some of the highlighting features of our Uber clone app.
Unique dashboards for Customer, Driver, Partner, and Admin

Request an On-Demand Cab Booking

View Fare Estimate Before Ride

Multiple login options

Accept/Reject Booking Requests

Rate and Review the driver

Automatic invoice details sent to mail.

Live Tracking of Driver

Safe and secure payment.

Social Media Integration
Latest technology integrated into our app
We strictly use latest technologies like Laravel, Firebase, MongoDB etc. If you fail to use the latest technology, your business will become irrelevant and all your customers move to your competitors. Apart from above-said technologies, AJAX, HTML5 is used for app and web development.
Specialized admin panel
Our specialized admin panel has latest data analytics tools with which relevant information can be extracted for the improvement of business. Highly secured admin panel can monitor all the details of driver and customer app in real-time.
Some of the activities of admin:
Driver commission Management

Taxi booking management

Customer management

View User's Login History

Location Management

Manage Payments and other transactions.
Completely customizable design
As said earlier, our customization on the app will make the app better than that of the original Uber app. We usually avoid cliche UI/UX design and provide the client with outstanding designs.
Developing an app for your business from SpotnRides saves you a lot of time and money. We are ready to help our clients in customization even for n number of times.
For complete information, please drop us an email to [email protected]. Our team of business experts is ready to answer any of the queries 24/7.  
Launch your Own Uber Clone App Now with SpotnRides: