Here comes the most innovative business that is in much need nowadays. It is the on-demand gas cylinder booking business. People from all walks of life have to use gas cylinders for cooking and a replacement for this is costly. Induction stove works on electricity and its cost is three to five times higher than the gas setup. The carbon footprint for an induction stove is high. Literally, there is no replacement for gas cylinders.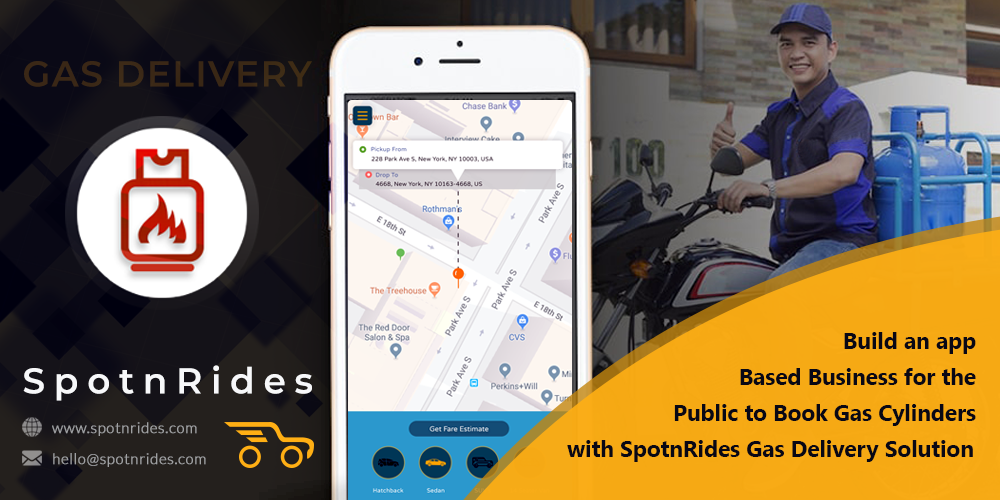 Why we go for an on-demand gas delivery?
Bringing this important product under the umbrella of on-demand is something big. Existing gas companies can venture into this or new entrepreneurs can create an uber like marketplace app for gas cylinder and make money from it. You can be a part of a dynamic industry aiming to use our experience by employing the power of technology to contribute to the development of modern society. Complete information on gas delivery startup from start to finish is explained below.
Why gas delivery app?
You may have come across the unpleasant experience of managing empty gas cylinders and booking new cylinders. Use the on-demand gas app to book gas cylinder, the location you want, within less time than it usually takes.
Convenience and comfort
You need not look for a gas truck or a petrol station. Order your gas cylinder with just a tap on your mobile phone anywhere, anytime.
Quick, Safe, and Secure
Safety should be a priority. In this world of the on-demand market where every service are made in a fast pace, gas cylinders will be replaced faster in a safe and secure manner.
Multiple payments option with utmost security
Payment options ranging from cash to other digital gateways are available in the gas delivery app. So, you no longer need to search for cash for payment.
Get Free Demo – WhatsApp | Skype
Who can enter this business?
Business model
When a gas cylinder dealer starts this business, they can sell their company products through the app which is not a marketplace model. This model needs a lot of capital and you have to employ delivery persons additionally.
Small entry-level entrepreneurs can create a marketplace and assemble all the available gas dealers under one roof. This model requires very little capital and only the gas dealers fix the price, delivery time, and all other arrangements. For every order, a certain commission is taken by the admin.
Working
Registration:

Enter your name, location, phone number, email id, and register.

Location:

First-time users have to pin their exact location on the map.

Place the order:

Choose the dealer and select the type of cylinder you want.

Payment:

Verify your order and select the payment type (Cash On Delivery / Digital payment) and then confirm the order.  

Confirmation:

Once you have done all the above steps, you will get a confirmation from the dealer.
Features in the gas delivery app
Track registered dealers/vendors: For an on-demand gas delivery app, it is essential for the admin to keep a track on the total number of vendors. The admin portal helps him to know the total number of registered vendors on the platform. The admin can track payments, take action on vendors based on ratings, deregister any vendors if needed.
Managing transactions: The admin panel has got all the history and other details of the transaction from both the customer and the vendor. The admin can view a detailed report on the payment received from the customer's end and also the payment due for the vendors. In case of discrepancy, the admin will be able to track the payment made and can resolve the query for the customers.
Track delivery person: Customers can track the delivery person via their app to know their exact location.
Analytics and Reporting: The admin and the gas vendor owner receives a detailed report about the gas consumed and delivery made. These are based on the bookings made. This is shown by the reports generated from the mobile app.
Easy cancellation: The admin can set the cancellation fee for the customers and the vendors. On the basis of who cancels the gas delivery, the admin sets a fee for its Customers. If the customer cancels the gas delivery, he is charged the cancellation fee in his next gas booking. However, the amount of the cancellation fee depends upon the admin.
On-demand startups that are already in the gas cylinder delivery business
YallaGAS: This UAE based company allows customers to book cooking gas cylinders and once the order is confirmed, the company delivers at the doorsteps in one day time.
EzFill: They function from the USA and provide on-demand service to 15 places in the state of Florida. They also deliver petrol/diesel at home.
SUPERGAS: They are the market leader in LPG gas delivery with products ranging from 2 Kg to 16 Kg. For hotels and other establishments, they provide commercial cylinders.
A simple approach for developing a gas booking app
Many a time, startups try to address a problem that doesn't really exists. So, understand whether you have a problem and you really solve a problem. Know your intended audience well. Follow the customer-centric approach, you will be able to provide the right solution and will easily be able to retain your customers.
Do complete market research and leave no stones unturned. Leverage whatever resources available. Always participate with your developers in choosing the right technology for your on-demand service.
UI/UX design plays an important role in retaining customers. Attract your customers psychologically with new designs and interface. Use referrals, promotions, discounts, while launching your application for on-boarding as many customers as possible.
SpotnRides has been a market leader in developing an Uber-like app for many services. On-demand app for gas delivery is a piece of cake for us. Our app has scintillating UI/UX and customizable features.  
If you are looking for a quick response team to clarify your doubts instantly about your new business venture, please connect with our expert team at Whatsapp or write a quick email to [email protected].