Through a mobile app, a taxi booking business goes about as a facilitator in giving the owners and administrators to serve their clients through numerous channels. Prior to mobile apps, clients could book their ride through their cab business website, call center or an application interface.
But of late, most of the cab booking businesses have switched over, Or are in the process of switching over to taking appointments just through mobile applications. The drivers have an independence to choose their own particular time to log in to the mobile application and acknowledge demands for rides from clients. The source of income for every taxi business is the commission for every drive. The operational costs are low as they significantly need to contribute just on the technological innovation.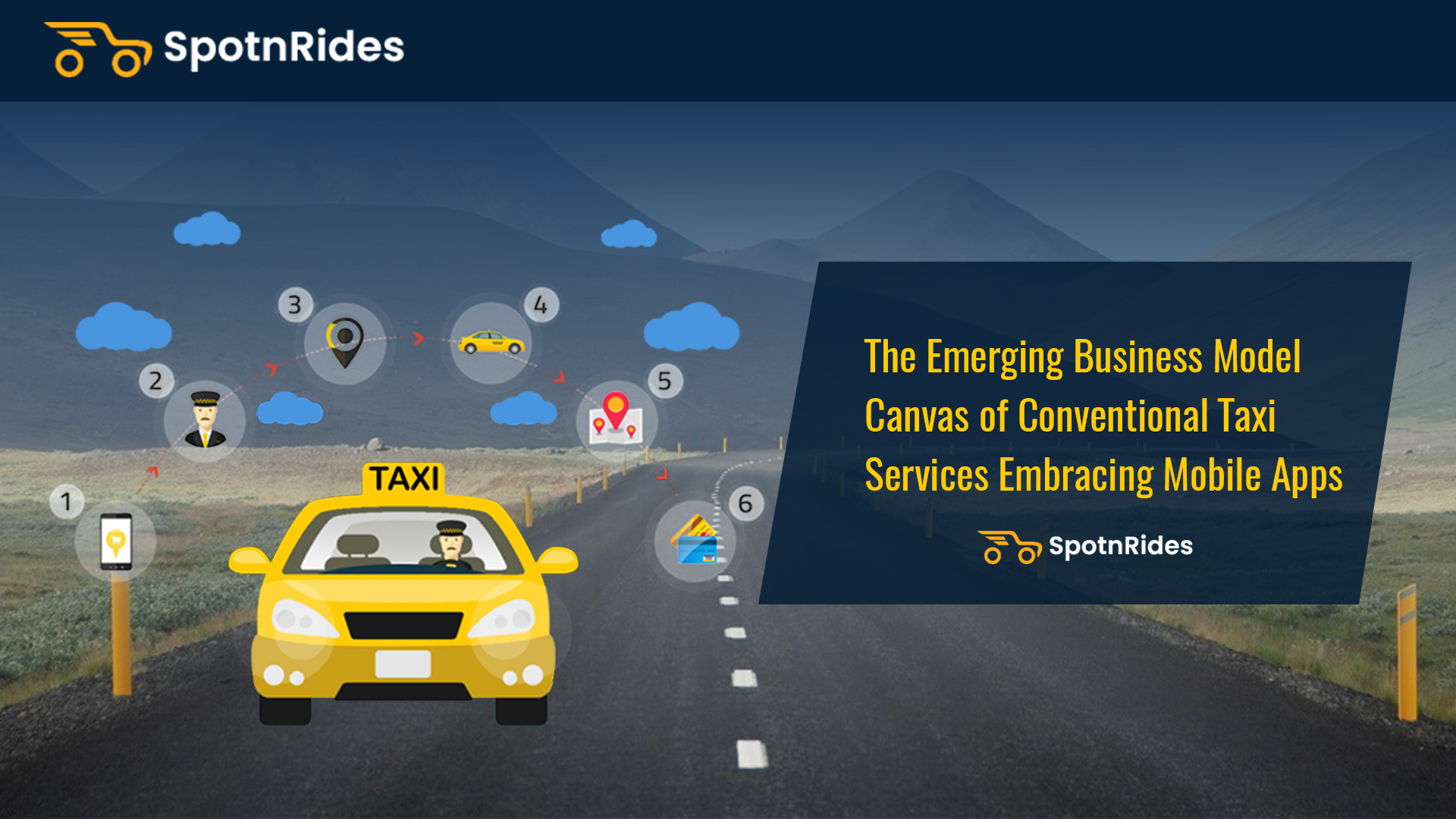 The taxi business has turned out to be an awesome innovation stage for transportation and offers simple alternatives of booking a taxi through an application and offers adaptability to the driver. The individuals who work more get incentives. These companies don't own cars nor do they employ the drivers, they simply connect with the drivers through the application.
They are the technology-driven marketplace. The cab companies thus began to grow at a speed of light due to the accomplishment of the associated technologies.
Let's go through the business model canvas of every successful taxi business from the supply to the customer side,
Key Partners
Drivers who own cars
Technology Partners like SpotnRides
Payment Processors
Investors
Partnerships with public transit agencies
Financing partners
Other Technologies ( GPS, Maps, Payment, Cloud Storage, Data Analytics etc )
Key Activities
Platform Development and Maintenance
Research and Development
Marketing and Consumers Acquisition
Balance supply and Demand
Hiring Drivers
Drivers Payments
Customers Support
Expand to more cities
Keep participants engaged and stimulate ongoing participation
Key Resources
Cab Booking Platform
Pricing Algorithm
Routing Algorithm
Skilled Driver who own vehicles
Process Automation
Salient Features
Venture capital to keep the business growing
Brand name & assets
Value Proposition
The smartest way to get around
Customers ( Taxi on demand, Case free, Easy to order a cab and short wait time, low price, cab map tracking )
Drivers ( Additional source of income, Flexible work schedules and can work part-time, easy payment procedures, Drivers get paid to be online )
Experience
Layer Player
Revenue Sharing
Technology trends
Two-sided Market
Customer Segments
Passengers ( those who do not own a car, Citizens who need a taxi service, Party people who go to clubs, Parties or Customers, Business Travelers and Tourists, Cab at the doorstep in bad weather conditions and other possibilities )
Drivers ( possibly who own a car and want to earn money )
Customer Relationships
Quality
100% digital mobile experience
Convenience
Highly Automated
Self-services
Review option
Rating and Feedback System
Customer Support
Channels
Word of mouth
Mobile App ( Android and iOS )
Websites
Public Relations and Press Releases
Social Media Channels
Various Local Advertising Channels like Newsletter, Radio
Online advertising etc
Cost Structure
Salaries to permanent employees
Platform Development
Research and Development
Events and Marketing
Payments to Drivers
Legal
and Finally, Revenue Streams
Pay per Ride charges
Surge Pricing
Cost Saving to Taxis
Net Revenue and Net Loss
The transformation of the taxi business into a completely app-driven service is a prime example of a real-world business turning totally digital. The change has been so revolutionary that conventional taxi services find it difficult to survive no matter how hard they try. Eventually, even the neighbourhood taxi stands are embracing technology and going the app way.
Looking for an Uber-like mobile app interface for your taxi service? SpotnRides is a full-functional Uber taxi app clone that will enable you to launch your mobile-based taxi service in no time. Once you decide to use SpotnRides we will completely customize and brand it according to your business and it will function totally as your unique taxi booking app. Low-cost, very fast and totally reliable.
If you are looking for a quick response team to clarify your doubts instantly about your new business venture, please connect with our expert team at [email protected].
Get Free Demo of Taxi Services App  – WhatsApp | Skype