Want to buy a house or a piece of land? What is the first thing you do? Most of them will approach a real estate agent and explain about your needs and requirements. The said agent will suggest you some places and he connects you with the seller. This is how traditional real estate works.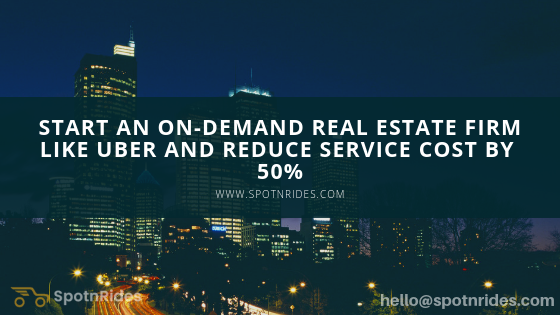 In this way of functioning, lots of cons are there than the pros. Apart from the real estate agent, lots of other middlemen will be interfering in the transaction. I'll list some of the advantages one can gain by eliminating the middlemen and the advantages of using uber like mobile app.
The middlemen will be a part of the negotiation between the seller and the buyer. Most of the times the middlemen make the final decision about the price. This kind of activity moves the control from the buyer and seller. To

gain more control over the negotiating

process, it is imperative to eliminate the middlemen.
The relationship between the seller and buyer deteriorates because of the middlemen.  There will be no one-way talk, instead, middlemen act as a mediator. So, there is a chance of deliberate miscommunication by the middlemen for some gains. Eliminating middlemen can

strengthen the buyer, seller relationship.
To summarise the above points, I would say that a 50% reduction in overall costs is achieved in the real estate market by ostracizing middlemen. So, how can we do that? There is already a firm that is doing it.
Get Free Demo – WhatsApp | Skype
How uber for real estate business model works?
"Uber real estate", which is functioning in the US is already achieving the above-said cost reduction, therefore disrupting the existing real estate model. Uber introduced us with proptech i.e. they combined both real estate and information technology.  
Consumers receive execution with only experienced professionals. Uber Real Estate has broker and attorneys with ten to thirty years of experience. Associates have equity participation based on performance metrics. They actually do provide agency and work for the clients of the company as it should be.  Uber real estate connects the seller and buyer in real time. This paves the way for more transparency and credibility.
In Uber real estate model, the consumers don't have to pay unless and until they are satisfied with the services, which is similar to the Jack ma's ( Founder of Alibaba ) business approach of satisfying customer demand. In the meantime, it seems Uber real estate will be getting lots of funding from outside.
Proptech technologies
BigData: This has enabled companies and individuals to make informed decisions with respect to investing and managing based on data. It is being used by the real estate companies to extract and provide information on various aspects such as history, ownership cost, current value, details of the neighborhood, an estimate of mortgage payment and estimated forecast of future valuation of the property to name a few.
Blockchain:  Blockchain use can potentially turn the rental property payments by removing middlemen and reducing transaction cost. It can facilitate cost effectiveness and better decision-making in leasing processes with the use of a shared database.
Building Information Modelling (BIM): Building Information Modeling is a smart 3D model-based process that enables architects, engineers, and construction professionals to plan, design, construct and manage buildings and infrastructures efficiently and the information can be used throughout the life cycle of the property. This instills confidence in clients for its transparency.
Sustainability and greentech: The increasing concern for climate change and sustainable living is driving the real estate sector to push their limits. PHYSEE and Enerbrain are startups working in these fields. All the credit goes to innovative IoT techs and powerful algorithms in the cloud to fine-tune energy usage that allows operational savings.
Future Growth
Consumers are averse to the unwanted bureaucracy and spending, so they need to go online completely and require a Uber like execution. The real estate market is seeing a surge like never before. Metropolitan markets in America and UK are reaching new heights in demand in property sales. India, Africa, and China are some of the real estate markets.
Rapid urbanization, migration, and millennials are cited as responsible for the real estate market growth in the future. The global market is expected to generate a revenue of $4,250 billion by 2025.
What next?
Those who are already in the real estate business or those who want to try a hand in the real estate sector can start a proptech firm like Uber real estates. Proptech firms are easy to start with a mobile application. Proptech is not new to SpotnRides. We have provided mobile applications similar to Uber for clients globally. Expert guidance will be provided by us from start to the point till your business function is stable.
If you are looking for a quick response team to clarify your doubts instantly about your new business venture, please connect with our expert team at Whatsapp or write a quick email to [email protected].
Get Free Demo – WhatsApp | Skype