In our busy lives, what makes us a bit relaxed is our pets. Spending time with pets cannot be substituted by any pleasure. Pets are also living beings, they should be taken care of. More and more stress given to the pets can psychologically affect them. With uber for pet app, you can provide a taxi ride for pets, schedule veterinarian for pets, pet grooming and many more under one roof.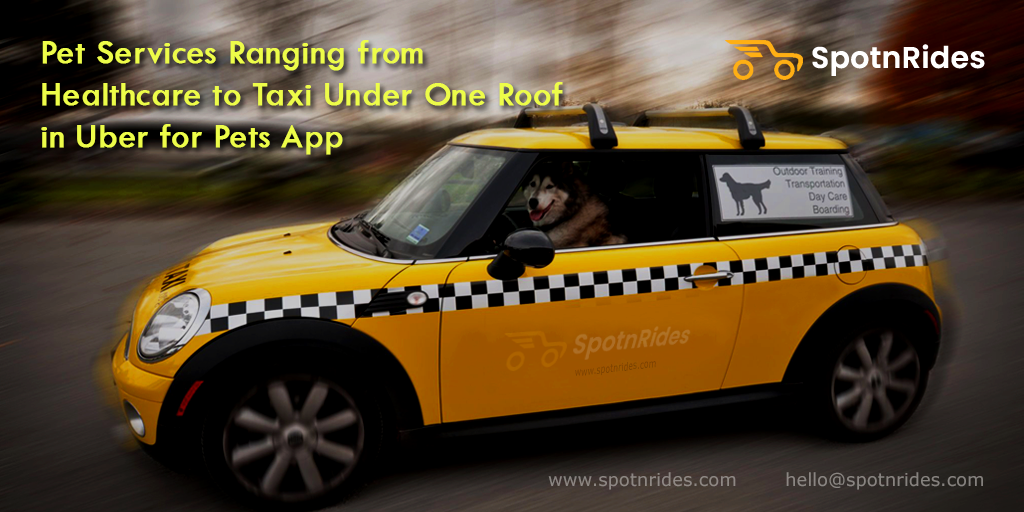 How uber for pets app works?
Everyone knows the sad state of pet transportation. Pets are not allowed in many modes of transport. Even if they allow, they charge an exorbitant price for transport. Here comes the use of a pet taxi. Pet taxi service can provide hassle-free ride experience for your pet with an easy booking through a uber-like mobile app.
Earlier to treat your pets one has to take them to a nearby veterinarian. In that transportation cost, food, everything comes into account. Instead with the Uber for pets itself, you can schedule an appointment with a qualified veterinarian for in-house visits. Even it is necessary, the pets can be ferried to the veterinary clinics in a pet taxi.  
Pet lovers can start the exciting on-demand Uber for pet business. Apart from being pet lovers, you can have experts who can handle pets efficiently. You can use pet taxi services that are customized to ferry pets with comfort and ease. Also, you can employ people who can handle stress and anxieties of pets.
Metropolitan cities have a high demand for the above services for pets. So, the potential for this business is high.
Features in This App:
Airport ferry: Taking the pet to a distant location for holidaying is easy with pet taxi.
Pet Cemetery: Demise of your beloved pet is a concern for us. With pet taxi, we ferry pet parents and their memories of time spent with their furry buddy who deserves a memorable goodbye.
Outstation pick up & drop: Whether you take your pets to outstation for holiday or moving to another city, then with pet taxi it is made easy.
Pet Grooming: Choose from a wide selection of amazing pet grooming salons in the Uber for the pet.
Working
Pet parent should enter the app and type the exact pick location, pet type, amenities needed.

The driver arrives at the said location for pick up, customers should give the OTP to the driver for confirmation.

After drop off, pay the driver via cash or any digital payments.

Customer gives feedback and rates the experience in the app.
Pet cab is a successfully running pet taxi firm in Asia. They offer many services including veterinary, grooming, hospitality and many more at affordable rates. Businesses similar to this have great potential in the US and UK.   
Launching your Uber for pet taxi business with the help of SpotnRides will be a great start. Our experience with more than 50+ clients in creating apps similar to Uber is a testimony to that. We would be happy in having you on-board for the ever growing on-demand market with our aid.
If you are looking for a quick response team to clarify your doubts instantly about your new business venture, please connect with our expert team at Whatsapp or write a quick email to [email protected].
Get Free Demo – WhatsApp | Skype