You have your own car but cannot enjoy the joy of traveling since you are driving the car. You have health issues so cannot drive the car despite having one. You are in inebriated condition after having some drinks, so it is unsafe to drive now. The answer for all this is having a valet for your vehicle. Valet/Chauffeur are specialized professional drivers who can provide a luxurious and comfortable traveling experience that too in our own car. They are not the same as that of regular car drivers. All types of vehicles can be driven by them.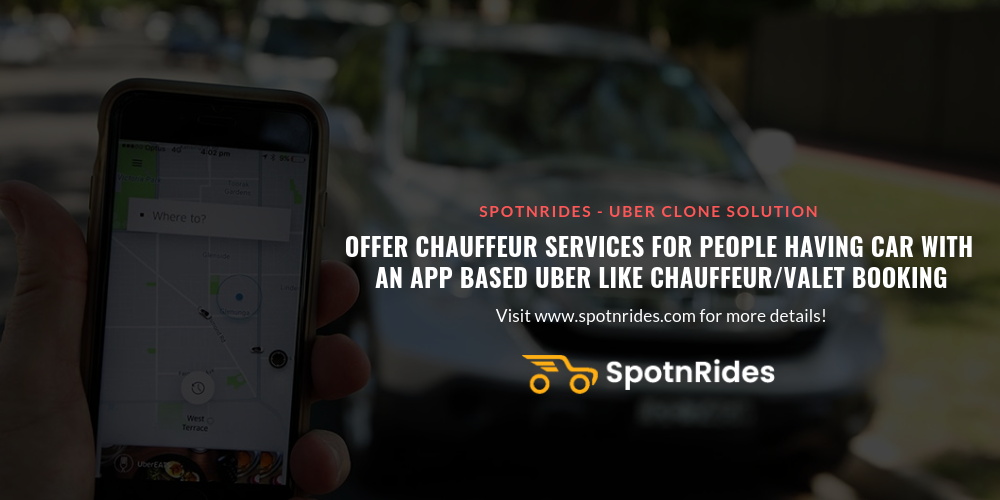 How our chauffeurs booking app solution will be beneficial for your on-demand chauffeur's booking startup?
Professional chauffeurs are trained to make your trip more pleasant than just driving. For any trip to the airport or other destinations, the chauffeurs will be there to help you even carry any heavy luggage to the car, and take you away to your destination in the utmost comfort. Not familiar with the new city? Choose valets who have great knowledge of the area, adding more to your chauffeur experience. No matter the occasion – from airport transfers and city tours to wedding and business shuttle services – the chauffeurs will provide you with VIP service.
Think of a person who has a vehicle, and on a particular day he wants to finish an important presentation on the morning of his meeting. He can just book a driver and utilize the ride-time to finish it
Just like Uber for taxis and food delivery, why cannot there be an Uber-like booking for chauffeurs? Without any big investment small time, entrepreneurs can enter this business by just creating an app and listing professional chauffeurs on the app. Professional chauffeurs can have an additional source of income just by listing their names in the chauffeur booking app i.e. they can work part-time.
For the users who are concerned with the safety and security while booking chauffeurs, the app firm can do background checks for the valet and issue them a verified ID. Also, the chauffeur should get a mandatory license from the government to work.
Working
Just key in your exact location and assess the kind of trip you'd like to take on the app. The app shows the fare estimate and allocates a driver from a wide network of professional, well–trained drivers spread across cities at every kilometer. In a matter of time, the chauffeurs will appear in a matter of minutes to drive you to your destination safely.
App features
Register and View nearby drivers: View nearby designated drivers from google map view or a listview that additionally, highlights their ratings.
Chauffeur profile and booking details: Booked chauffeur's profile page is extensive and detailed, so as to improve the customer's trust with the app and driver.
Driver live tracking: Chauffeur can accept or reject the customer request, once accepted live tracking beings.
Review and Rating: Both the customer and chauffeur can rate each other which will be useful for further bookings.
This exciting chauffeur startup has a lot of scopes and also less capital intensive. Young entrepreneurs and college passed outs who want to leverage the potential of the on-demand wave can enter this business with the help of SpotnRides. SpotnRides is a market expert in developing on-demand solutions and our USP is our ability to provide whatever customization. Keep it simple: formulate a business plan, do market research, join with SpotnRides for app, and finally deploy the app.
If you are looking for a quick response team to clarify your doubts instantly about your new business venture, please connect with our expert team at Whatsapp or write a quick email to [email protected].
Get Free Demo – WhatsApp | Skype