Uber disrupted the taxi market, FoodPanda introduced affordable food delivery, GoJek brought many services under one roof. All these on demand app startups disrupted their respective markets. If you ask whether these disruptions had an effect on the country's economy? I would say yes, but both the pros and cons were there in that. There is one area still untouched by the on-demand wave is the education sector. Unlike other areas, disruption in the education sector can revolutionize the country in terms of overall development.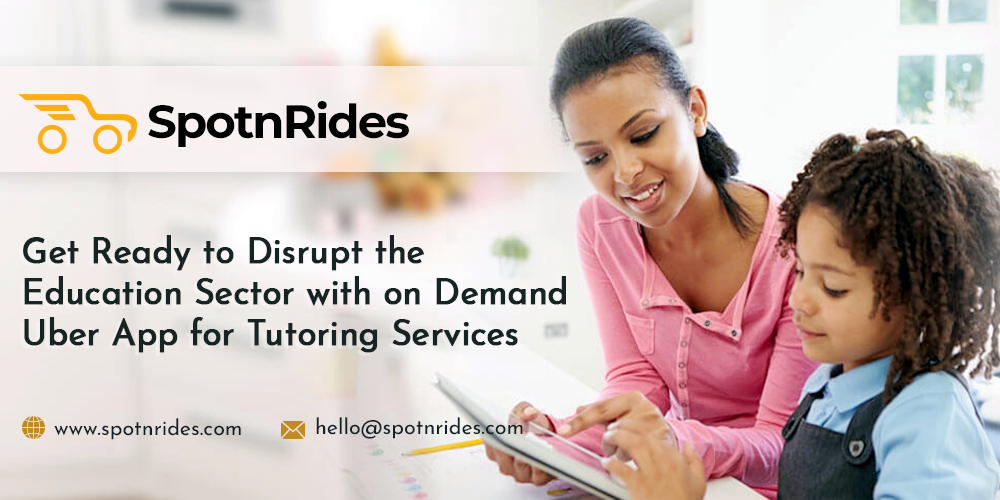 Imagine how a classroom works. A single tutor will teach a class packed with many students. To get the maximum out of a tutor, the students should ask a lot of questions. Just think how many students will ask questions in front of everyone. In some scenarios where slow bloomers are there, they have to be given special attention. Similarly, a lot of cons are there in classroom teaching. Here comes the solution in the form of in house tutors. Moreover, this kind of services is liked by millennials.
What is Uber for Tutor App?
Benefits of in house tutors for children
The children will have one-to-one communication with the tutor. This makes him more comfortable for asking questions and other doubts. The children may not lose focus and be highly attentive.
The child can get access to tutors anytime based on their convenience i.e. in other words flexibility. Students can get more time for their extra-curricular activities.
Children can choose the right tutors that suit their wavelength. This helps the children to work with the tutors having a mutual understanding.
Children with dyslexia, autism can get special attention from tutors. Some tutors are known to have worked with such children. This can be a big relief for the parents.
Tutors can work along with the child's pace. And this is the main reason for opting in house tutor.  
All the above benefits can be obtained in a Uber for tutor app. But, will there be a demand for on-demand Uber for tutor app?
Unlike many fields, education is one sector where there hasn't been a major innovation for a long time. It is high time for the education sector to experience a revamp for the reason I have already mentioned. Millennials also expect new ways to acquire information and skill sets.
With an app like Uber for tutor, people won't need to pay for the complete course. Instead, they can just find appropriate tutors, connect with him/her, set up the learning session, and pay directly.
Get Free Demo of Tutor Booking App Development  – WhatsApp | Skype
For tutors and people with society consciousness
People who want to help students and the one who wants to transmit their knowledge to others can sign up for this work. Teachers and professors who work in the weekdays can register for in house tutor in the weekends. This generates additional money for them.
What does it mean for entrepreneurs?
The Homeschooling market, which can be a great push for the tutoring market, is projected to grow to $2.5 billion by 2021. With Uber for tutor, you start a marketplace for tutors. You can assimilate the potential or interested tutors, do a background check, provide verified ID number and list them on the platform.
How does it work?
It is no big deal. It is similar to the operation of Uber for X services. The child's parent search for a suitable tutor in the app selects the tutor, fixes date and time, provide details about the child. Also, students can send requests to tutors privately.
The tutors can accept or reject the request based on availability. Once, requests are accepted, the place can be fixed and the session can be conducted.
Features in Uber for tutor app
Instant notification: Both the tutor and student will get notification instantly since they have one to one communication.
Accept/Reject request:  The tutor can accept or reject the request based on his/her availability.
Chat with students:  The child can clear the doubts anytime, anywhere via the chat available in the app.
Locate students on map: Easily locate the students on the map.
Schedule booking: With the book later option, the student can schedule a class with a tutor in the future.
The potential in the education sector is so much that an online tutor model can be supplemented with the Uber for tutor app business. This is similar to the MOOCs, where you get quality content along with certifications.
Those who have a knack in the teaching industry can get benefitted by going digital. Similar to you, SpotnRides have a knack in creating Uber like app solutions and have helped many with their businesses.

If you are looking for a quick response team to clarify your doubts instantly about your new business venture, please connect with our expert team at Whatsapp or write a quick email to [email protected].
Get Free Demo of Tutor Booking App Development  – WhatsApp | Skype