In today's world, most of them relocate to new locations for work-related activities. They move to rented houses in different cities. In such a scenario we can definitely expect leaky pipes, boilers, air conditioner channels, chillers, sinks, toilets etc. This situation is not only limited to rented houses but also own houses, hotels, restaurants, and industries. Plumbers may not be available at our disposal all the time.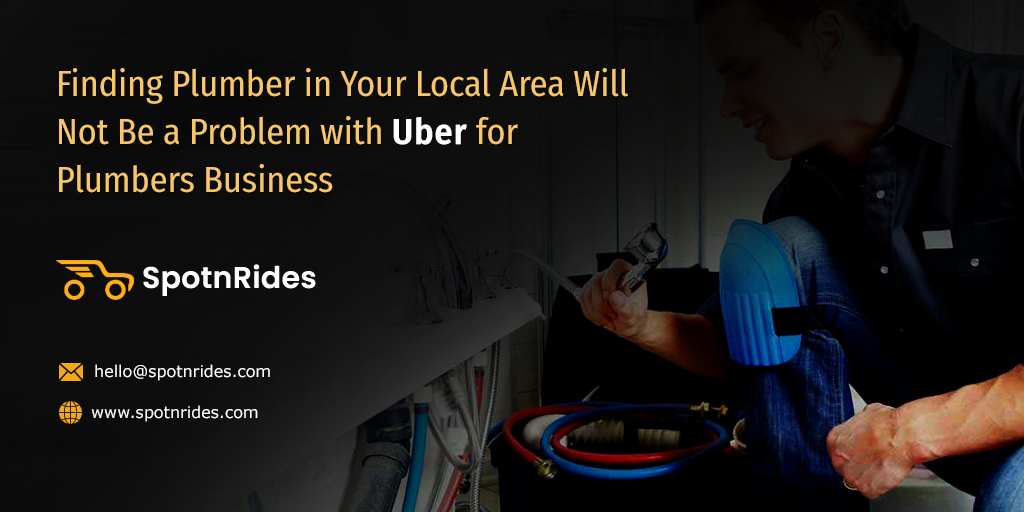 How our uber for plumbers app solution helps your on-demand plumbers startup?
So,  taking all these issues in hand I would suggest you an app for plumbers. Sounds familiar right?. Yes, we have uber like mobile applications for cab booking, food delivery, laundry, room booking, and many other services. The Uber for plumber business is cost-effective and only thing you have to do is bring all the plumbers into your business by providing them major share for every service they do. The business plan and revenue model of Uber for plumber business is similar to the Uber taxi firm.
Professional plumbers can be booked where such a possibility is not available elsewhere. Part-time plumbers can also be roped into service, for them it is an additional source of income.
Working
Users have to download the plumber app, book a plumber and do the following:
Explain the problem

Schedule timing

Negotiate fee

Confirm booking  
Like the Uber for taxi app, Uber for plumber has two apps: Plumber app and customer app.
Plumber app
A plumber who wants to get new services can download the plumber app and register the details. If the plumber gets any request, he can accept or reject the request based on his availability.
Features
Instant chat: The plumber can chat with the customer regarding the problem. Instead of calling, the plumber can use instant chats.
Accept/Reject bookings: The plumber has the option to reject the request if he is unavailable or accept it if available instantly.
Customer loyalty program: This is a promo code for customers sent via push notification by the plumber.
Job history details: Plumbers can see all the jobs they have done so far.
Instant alert: The plumber can send an instant alert about his location, work to the customers.
Individual login: Plumbers can log in individually to check their details.
Online/Offline option: The plumber can go online and offline whenever required. This sends an intimation to the customer app.
Customer app
Similar to Uber for taxi, Customers can download the app and book a plumber.
Features
Auto estimate arrival time: Once the plumber accepts the request and starts from his location, estimated arrival time will be displayed on customer app.
Live geo-tracking: The customers can live track the plumber location and do necessary preparation.
Talk to your plumber:  If you are not able to articulate on chat, then you can use call your plumber option.
Rating & Review option: After the completion of the service, the customer can review the work and rate the service. This may help the plumber to improve his service.
Change/Cancel booking: Customers can change plumber or cancel the booking
All the above features are ingrained in our SpotnRides Uber app for plumbers. Our USP is our experience from the interaction with more than 50+ clients across the world. People who want to pitch into some innovative business at less cost can opt for on-demand plumber business. The SpotnRides team is ready to help you from inception and also provide after sale support.
If you are looking for a quick response team to clarify your doubts instantly about your new business venture, please connect with our expert team at Whatsapp or write a quick email to [email protected].
Launch your Own On Demand Plumbers Business Now with SpotnRides: 
Get Free Demo – WhatsApp | Skype