Taxi aggregators like Uber, Lyft, Ola, Didi, and many logistics companies, transport companies use a system to manage their fleet. The fleet management software system is what differentiates them from others and that is why they are in the top rung in their respective fields.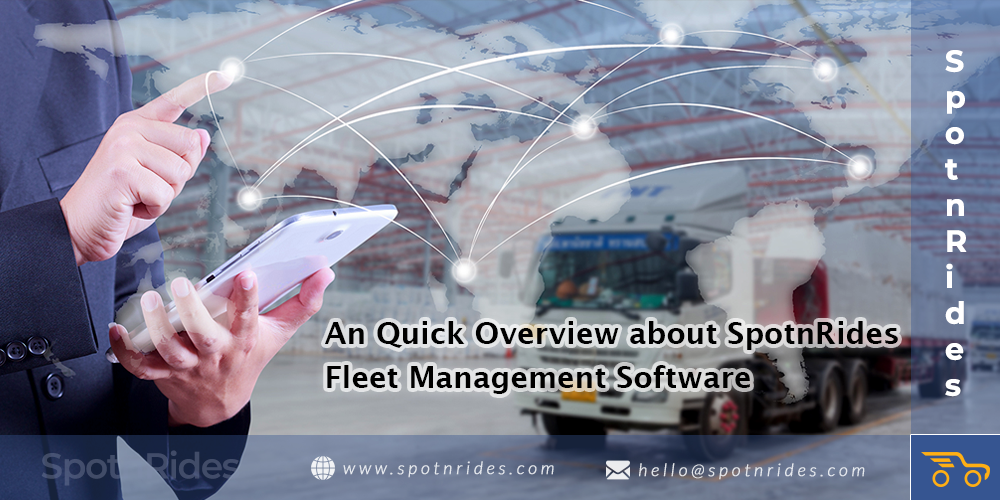 Usually, the fleet management system is a software that uses information database system and global positioning system(GPS).
Purpose of Fleet Management Software
GPS tracking and Route management
The Fleet management software comes with built-in tracking system which uses vehicle telematics like GPS, GLONASS, and cellular triangulation. For real-time tracking, a OBD device is connected to it.
Vehicle performance and maintenance
Scheduled maintenance can be performed fleet at a particular time frequency. Receipts for vehicle expenses could also be loaded and exported for use with accounting packages.
When a vehicle reaches the end of its time it may be either disposed or returned to the leasing company. The fleet management software helps in calculating the cost of depreciation.
Vehicle performance like engine temperature, mileage, tire pressure, seat belt use, distance traveled, gear and clutch operation to name a few are tracked in real time to assess the condition of the vehicle.
Cost and Insurance management
A company should be able to find whether it is getting value for money for its fleet in its current configuration. This software could perform calculations for the total cost of ownership including maintenance, fuel, and other factors.
Drivers may occasionally get fines, toll charges and other infringements which are taken care by this software. This software is quite useful when it comes to insurance management as well.
SpotnRides Fleet management software
Already SpotnRides in one among the top in delivering Uber like taxi app solutions. Other than that we have clients from across the world. Fleet management system is imperative for every cab aggregator. This is an IT category, which leads to long-distance transmission of computerized information.
Features of Fleet Management Software System
Geoanalytics
Allocate resources & create promotional offers based on custom made geography lines to efficiently manage supply-demand.
Real-Time GPS Vehicle Tracking
Real-time GPS tracking vehicle tracking feature can provide the following facilities:
Easy to trace stolen vehicles

Information about damage or inappropriate usage

Collect data about drivers road behavior to detect unruly drivers
Furthermore, security is one of the major concerns when it comes to GPS fleet management app, and this feature provides the following advantages:
Vehicle Tracking:

It determines the current location of each vehicle to trace the stolen cars from the fleet.

Accident tracking:

It allows easy to manage the process of accident, repair, and recovery of the vehicle.
Real-Time Visibility
Interactive Silverlight user-interface shows real-time vehicle locations, customers, and routes.
Manage Downtime
It is a measure of time during which the vehicle should be available for use but is not due to a repair or service. However, if the vehicle is unavailable during a time in which it was not needed by the assigned user, service time is not considered downtime.
Use of shifts allows for the accurate calculation of downtime as opposed to a 24/7 clock, which suggests the entire duration of a work order is downtime.
Measure & Compare with Performance Dashboards
All fleet operations should measure their performance. Fleet management systems provide real-time performance tracking utilizing dashboards with key performance indicators, such as fleet availability, a rate of repeat repairs, service turnaround time, PM compliance rate, and scheduled service rate, among others.
Above features of SpotnRides is just a tip of the iceberg and we can help you in customizing the software in the way you like it. Our taxi dispatch system is an app clone so, you need not to hire a separate developing team. Our taxi dispatch system comes along with taxi booking app. This system can also be customized to other formats like logistics and transport.
The SpotnRides Fleet Management System Consists of Four Panels
Features of dispatcher dashboard
Those who are in on-demand taxi business can supplement their app with a fleet management system. Unnecessary time and money loss can be averted with this software. So, for anyone who wants to take their taxi business or any logistics business to the next level can get benefitted from SpotnRides fleet management software.
If you are looking for a quick response team to clarify your doubts instantly about your new business venture, please connect with our expert team at Whatsapp or write a quick email to [email protected].
Get Free Demo – WhatsApp | Skype
Request for Free Consultation to Build your Fleet Management System: